Top-Up Controller TCS 5 Series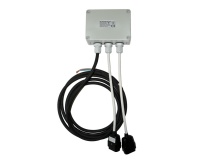 Level Control/Mains Water Top-up Kit
Description
A simple, compact and reliable mains water top-up controller with optional pump isolation versions too, for both direct pressurised, and indirect (header tank) rainwater systems. All TCS5 controllers are designed to work in conjunction with an automatic pump.
The float switch constantly monitors the level of water in the rainwater or header tank. If there is too little rainwater in the tank, the controller automatically adds a measured amount of mains water to ensure continued availability of water. The exact amount of water topped up can be adjusted by manually adjusting the float switch.
The TCS5 Controller is not supplied in a fixed housing or box. This allows the components to be wall mounted separately. This flexible solutions accommodates the constraints of installation in small domestic properties which often involve restricted spaces (e.eg under sink, or behind a washing machine).
TCS5 Series Controllers are available with a variety of float switch lengths to suit various installations. A pump controlling version is also available, which will isolate the pump while topping up. All TCS5 controllers are designed to work in conjunction with an automatic pump.
The new low voltage options (TCS5JBL and TCS5JBLA) are suitable for irrigation applications.
A range of suitable stainless steel rainwater pumps are also available. We also manufacture pump bases to suit more basic "bottom suction " type pumps, allowing the fitting of a floating intake.
Features
Features
Control of mains water through a high flow solenoid valve.
Type A-A air gap meets UK and EU water regulations, with a unique integrated tundish overflow.
Float switch lengths of 2m, 15m and 20m, or bespoke to order.
Pump control options available.
Low voltage 24v options available.
All components are designed for wall mounting.
Available with optional pump isolation for dry run protection, in the event water demand is likely to exceed mains water top-up rate.
Designed for use with automatic pumps.
Supplied with electrical connectors for ease of installation.
2 metre version can be used for header tank systems.
Ingress protection IP65 (main unit), IP54 or IP67 (solenoid).
TCS5 Series Overview
CODE
FLOAT
SOLENOID
IP
TCS5JB1
15m
0.5″
IP54
TCS5JB1A
15m
0.75″
IP54
TCS5JB1B
15m
2″
IP54
TCS5JB1C
15m
1.25″
IP54
TCS5JB2
20m
0.5″
IP54
TCS5JB2A
20m
0.75″
IP54
TCS5JB2B
20m
1″
IP54
TCS5JB2C
20m
1.25″
IP54
TCS5JB3
2m
0.5″
IP54
TCS5JB3A
2m
0.75″
IP54
TCS5JB3B
2m
1″
IP54
TCS5JB3E
2m
2″
IP54
TCS5JB4
5m
0.5″
IP54
TCS5JB4B
5m
1″
IP54
TCS5JB3IP67
2m
0.5″
IP67
TCS5JB4IP67
5m
0.5″
IP67
TCS5JB3AIP67
2m
0.75″
IP67
TCS5JB4AIP67
5m
0.75″
IP67
TCS5JBL 24Vdc
Supplied Separately
Solenoid Valve Supplied Separately
TCS5JBLA 24Vdc
Supplied Separately
Solenoid Valve Supplied Separately
Accessories
Optional Accessories and Bespoke Systems
Stainless steel submersible pumps.
Our quiet low energy (600W) yet powerful Automatic or Manual SteelPumps are available for a wide range of domestic and commercial applications, and are perfectly suited for use with the 3P Rainwater Top Up Switch. SteelPumps are available in single-stage and multi-stage models with horizontal or vertical body types: www.steelpumps.co.uk.
Floating intakes and pump accessories.
A range of pump accessories including floating intake filters, expansion vessels, pump bases (with or without floating intakes) and pressure gauges are available to enhance the performance of your rainwater system.
Bespoke system design.
We also offer a bespoke system design. We fit cables, floatswitches, pressure switches and design and build bespoke controllers to your specification.
Documentation
Please, Contact us if you have any questions.
Order online from our steelpumps website: Buy Now