3P Technik is an established EU wide market leader in stormwater multi-process filtration and vortex separation systems. The concept of using a multi process unit in a SuDS/WSUD treatment train is accepted in UK treatment train designs.  Historically, the UK market only used basic grit separators,  to remove the heavier sediments out of suspension (TSS Coarse etc) and of course the ubiquitous and mis-named "silt traps".
UK standards and regulators within Lead Local Flood Authorities (LLFAs)  and SuDS Approval Body (SAB) increasingly require runoff from more contaminated areas like highways, busy commercial car parks and industrial yards to be treated by removing a wide range of contaminants. These include PAHs and heavy metals such as zinc and copper in both solid and dissolved form.  In countries like Germany, Switzerland and the Scandinavian countries, tight standards are imposed on discharges of stormwater runoff to protect both surface waters and groundwaters alike.  UK LLFAs and SABs now understand the importance of treatment of persistent contaminants like benzo a pyrene to mean their planed removal from the wider soil and water environment.
Even the CIRIA SuDS manual acknowledges the need to focus on finer particles at many sites (see Chapter 14, Part D Technical detail, pg 284).   This requires designers to assess the fate of particles finer than 64 microns, so called PM64. Treatment involves removing silts and clays, as well as the dissolved phases of metal contaminants.  Many older generation particle separation devices cannot remove these fine particles. Or they only do it only for a while. Or disastrously they simply release the retained bound heavy metals once road salt in the incoming  stormwater reaches the retained sediments. This creates a huge spike in metal contamination in the receiving water, in winter time, which can have lethal effects on flora and fauna.
The British Water Code Of Practice ( Assessment of Manufactured Treatment Devices Designed To Treat Surface Water Runoff ) specifically acknowledges the need to consider road salting effects,  and the fate of PM64 fine particles.  3P UK were pleased to be a contributor to the the BW Code of Practice.  It is a critical oversight that nowhere does the CIRIA SuDS Manual define the particle size distribution when discussing the fate of TSS and their removal from the environment, particularly in respect of highway and commercial yard runoff areas.
All 3P products are designed and certified to perform to independent standards. These units pass the DiBT standard, which is referenced in the CIRIA SuDS manual (see Ch 14 Part D: Technical Detail,  and Ch 26, Part E: Supporting Guidance).  We also have other certifications, such as NJDEP, Washington TAPE and NRW Trennerlass. 3P Stormwater treatment units all meet a certain performance standard that will be understood and accepted by the Environment Agency and LLFAs in England and Natural Resources Wales (NRW) and SABS in Wales.  SEPA have also allowed the use of 3P products within Scottish projects. There is more on our Certifications and what the individual standards are on our Stormwater Product Certifications page.
The 3P HydroSystem 1000 and HydroSystem 1500 up flow filters are particularly relevant for polluted water treatment in sensitive catchment areas and Sites of Special Scientific Interest (SSSIs) . Typically deployed after a flow control unit, the HydroSystem range delivers effective stormwater pollution prevention plans (SWPPP) and can be part of stormwater best management practices (BMP).  3P HydroSystem is ideal for the treatment of run off from zinc galvanizing yards, metal recycling sites, other metal processing yards and other areas of industry.
Please feel free to Contact Us to discuss your particular treatment train requirements and the Mitigation Indices of our products. 3P UK and 3P GmbH were corresponding members of the British Water Treatment Devices Technical Standardisation Group.
Our UK sales partners can supply units to site fabricated in bespoke chambers to meet individual site design SuDS solutions.
Based as we are in Wales, we are delighted and proud to see the Welsh Government standards on water management have been so successfully implemented.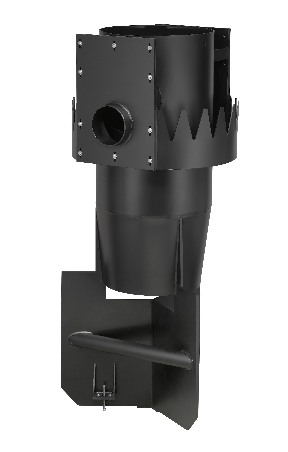 HydroShark
The 3P HydroShark® hydro-dynamic particle separator removes  suspended solids (SS) from the stormwater runoff. This patented and tested Proprietary Treatment Device protects surface water and groundwater infiltration systems.
If you need more information, help selecting the best product for your needs or simply want to buy our products, please Contact our team of experienced stormwater management experts.