HydroShark – Advanced Hydrodynamic Particle Separator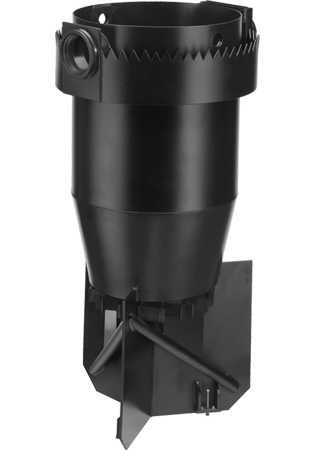 The 3P HydroShark® Advanced Hydrodynamic Particle Separator removes  suspended solids (TSS) from the stormwater runoff within SUDS Treatment Trains. This patented and tested Proprietary Treatment Device protects surface water and groundwater infiltration systems.  This device meets and exceeds all German stormwater treatment standards under DWA M153 D24 and D25. Tested to DiBT.  It can be used on-line or off-line, and with or without an external by-pass unit.
Available in plastic or concrete chambers. Ideally deployed within a water quality SUDS treatment train. Simple to deploy, simple to maintain. A HARD SUDS device, this hydrodynamic particle separator is used in reducing hazards of pollution, often in advance of Green Infrastructure.
Incoming storm water is deflected into a radial (vortex) flow pattern via a submerged deflector plate. The vortex set up within the inner tapering swirl chamber generates the so-called teacup effect, allowing sedimentation of suspended particles to take place. Particles sink and settle into the sludge trap below. This sludge chamber is hydraulically isolated from the main flow chamber by means of a flow breaker grate and baffle walls. So remobilisation of the settled solids during heavy rainfall events is impossible. This is tested and certified as such.
The unique balancing toothed weir ensures that a homogeneous even flow pathway prevails.  Because of the toothed weir, waters in the outer section of the particle separator must flow upwards evenly.  This even flowpath in the separator is a critical design element. Unlike some other devices, there can be no short circuit currents in the system, even at high flows.  Lightweight materials such as oils, litter or pollen are effectively retained because they cannot submerge beneath the inner chamber wall. There is no head loss between the inlet and outlet pipes. The system cannot air lock. The 3P HydroShark® can be deployed to treat water from all surfaces,  roof areas, car parks, roads, runways and commercial and industrial areas. So it can be used to meet Simple Index from CIRIA SUDS Manual recommendations. See Simple Index Approach in Chapter 26 of C753.  Treats sediment bound metals, hydrocarbons and of course TSS Fine and TSS Coarse. Mitigation Indices available on request.
Seven sizes of 3P HydroShark® are available, HSK750, HSK1000, HSK1200, HSK1500, HSK2000, HSK2500, HSK3000.
How the advanced hydrodynamic particle separator works
The incoming storm water is deflected into a radial flow pattern, a swirl separation technology.
Solids settle down into the sludge chamber, floatables are retained at the surface.
Solids are retained in the sludge chamber below the treatment chamber. Remobilisation of retained solids is not possible, flow baffles and an isolation grill prevent this. Test data proves this.
Cleaned water flows up the outer chamber in an even flow distribution.  Because of the toothed weir, the Sharks teeth ensure no short circuit pathways are possible.
Water flows evenly over the toothed balancing weir to the annular space surrounding the treatment chamber.  The absence of one outlet pipe from the treatment chamber room prevents preferential pathways being generated within the treatment zone, even at high flows.
Clean treated storm water passes over the teeth to the outlet collection channel, and discharges to the water environment or the next SUDS Treatment Train stage.
Technical Overview of the 3P Hydrodynamic Separator
Maximum Treatment Flow Rates (l/s) are from 11 through 20, 45, 80, 125 and 180 litres/second.  Flow rates are calculated according to the NJDEP protocol. These Treatment Water Quality Rates can be adjusted to suit site specific design treatment requirements.  This is especially so when the hard SUDS Hydrodymanic Separator is combined with other treatment devices within a SUDS Treatment Train, including SUDS wetlands, ponds, swales or other green infrastructure.
| TYPE: Standard Models | HSK0750 | HSK1000 | HSK1200 | HSK1500 | HSK2000 | HSK2500 | HSK3000 |
| --- | --- | --- | --- | --- | --- | --- | --- |
| Product Code (no chamber)* (m) | 3100810 | 3100820 | 3100900 | 3100830 | 3100840 | 3100850 | 3100860 |
| Shaft Diameter (m) | .75 | 1 | 1.2 | 1.5 | 2 | 2.5 | 3 |
| Connection DN (mm) | 150 | 200 | 300 | 300 | 350 | 400 | 500 |
| Hydraulic Capacity (l/s) (varies) | 20 | 40 | 130 | 98 | 147 | 220 | 378 |
| Sediment Storage Capacity (m3) | 0.4 | 0.6 | 0.86 | 1.2 | 2.2 | 3.5 | 5 |
| Oil/Debris Storage Capacity (l) | 49 | 335 | | 785 | 1130 | 2010 | 3140 |
* available as bare insert, or pre-fitted in Chambers: PE Chamber (Product Code +PE), Concrete Chamber (Product Code +CN).
Further Information: Hydrodynamic Separation in SUDS
More information is available and new projects are always underway.  Mitigation Indices assessed to meet project SUDS Treatment Train requirements are available on request.  3P HydroShark is sold through a small selected network of 3P Technik UK approved suppliers as a street drain filter, often in advance of Green SUDS Infrastructure.
If you require information on our Stormwater Treatment Products please contact us or call us on 01239 623506.  We do not manufacture attention tanks, chambers or infiltration systems. Because we specialise in high performance Stormwater Treatment Devices.
All  3P  Stormwater Treatment Products are only supplied through a small selection of trained specialised partners. If you wish to re-sell any of our range, please contact us.
Documentation
HydroShark Brochure (pdf).