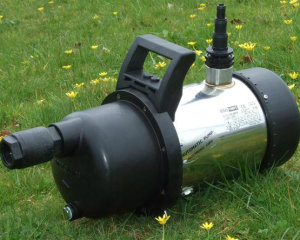 Garden Steelpump
Description
The powerful yet amazingly quiet Garden Steelpump can be submerged in water or connected externally to a water butt.  This makes it the safest pump for your garden, because it is totally water proof.
Starting and stopping automatically as water demand dictates, the pump is totally waterproof (IP68) and rigorously safety-tested. We believe this to be the safest and indeed the quietest pump in its class. As a powerful water butt pump, it is really best suited for pumping from larger decorative water butts or larger industrial style tanks, with greater storage volumes.
The Garden Steelpump is available with optional hose adapter to fit common garden hoses and an optional carrying handle. We can offer to ship these direct for you, or provide stockist pricing. The full range of steelpumps are shown at steelpumps.co.uk, where all technical details are available for all models.
Product Codes
Garden Steelpump: XAJE80P
Garden Steelpump with multi-hosetail reducer – XAJE80PR
Garden Steelpump with multi-hosetail reducer and carry handle – XAJE80PRH
If you wish to pump rainwater, we recommend it is filtered, using a 3P Filter Collector Diverter, rather than just a basic rainwater diverter alone. Many rainwater diverters are almost guaranteed to block, by design, and do not filter the stored rainwater adequately.  If your diverter hs no stainless steel mesh, it is not suitable for filling larger rainwater tanks, or for the stored rainwater to then be pumped.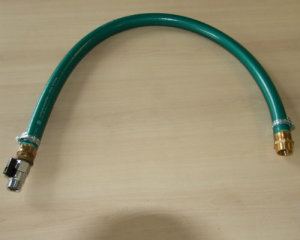 Pump-to-Tank Connector
Description
The 3P Pump-to-Tank Connector includes a chrome brass shut-off valve and brass quick connectors (flat seals) . This clever design allows a pump to be connected and disconnected from a water butt or rainwater tank quickly and without any loss of water. Alternatively, the whole Connector can be disconnected and removed at the pump end.
The Connector kit comprises 1 metre of a quality multi-layered flexible hose with a quick connector (flatseal type) at each end, a chrome plated brass shut-off valve, and a brass adapter to connect to almost any  pump with a 1″ inlet.
This kit fits any water butt or tank with a ¾" female BSP threaded port. Other bespoke sizes can be made to order.
Product Codes
Pump-to-Tank Connector – 9000123PT
Extra Ball Valve for Pump-to-Tank Kit – 9000123PT2
For use of the pump-to-tank connector kit on an additional water butt.
3P Lawn Tap Set
Description
The Lawn Tap Set connects an existing garden hose to a pumped rainwater system at any convenient point in the garden.
The supplied chamber can be buried flush to ground level in a lawn or flower bed or any soft landscaped area.
The set is supplied with 15 metres of HDPE pipe.
Product Code
3P Lawn Tap Set – 9000390
---
if you need more information, help selecting the best pump for your needs or simply want to buy our products, please Contact Us or call us on 01239 623506.