Hybrid Direct Pressure Rainwater Controller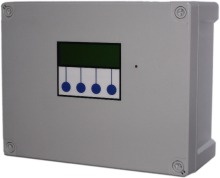 TH and TS – Series Hybrid Direct Pressure Rainwater Controller
Description
The 3P RainForce TH and TS series control panels are an advanced rainwater management solution, designed to manage the supply of water from an underground rainwater harvesting tank to supply points within the building under direct pressure, with mains water back up supplied via an intermediate break tank. Like all RainForce commercial Controllers it has been designed to prioritise maximum availability of water (preferring rainwater where possible) with minimal power consumption, whilst keeping possible points of failure to a minimum.
This control panel may be installed within a 3P Technik commercial rainwater harvesting unit, but is also a compatible replacement or upgrade for several rainwater harvesting units manufactured by others.
Pump control is provided via direct mains voltage outputs from the control panel, operating as necessary to maintain an optimum pressure range (adjustable). Duty standby and duty assist are supported. Pumps may be run either in alternation, or with 1 active and 1 redundant spare. Faulty pumps are automatically retired.
There is no requirement for pumps to be matched, or for any specific model to be used in conjunction with this Controller so long as they meet the minimum required pressure. Automatic pumps may also be used if the additional security of dry run protection is desired, although pump cut in/out function will be taken over by the RainForce Controller.
Mains water backup is provided by a top-up solenoid, filling a break tank situated locally to the control system. The break tank is either used exclusively for mains water, with a motorized valve switching the pump inlet between rainwater supply and break tank supply, or it may be a combined mains and rainwater break tank, supplied with water both by a mains water solenoid and an in-tank supply pump within the main rainwater harvesting tank.
Features
Features
Adjustable pressure control (10bar max)
Duty Standby/Duty Assist with alternation
Modular 'hot swap' of pumps and solenoids
Automatic Tank Level Calibration
Multiple pump model support at 230Vac 50Hz or any supply voltage/phase via contactors/overloads
Single Sphase (3 phase via additional connection kit)
BMS Switched output
Optional BMS serial output
Advanced Fault Tracking
Fault Warning LED
Auto hunt for redundant spare pump during pump failure in single pump mode
Swappable MCU chip (software)
Solenoid valve isolation on fault – reducing fire risk from overheat
System Overpressure Alarm – protects pipework and attached appliances (UV system, etc) from overpressure due to faulty installation or incorrect pressure setting
Waterproof to IP65
Overvoltage protection
Brownout protection
Watchdog timer
Fused Outputs
Adjustable Settings
Adjustable Settings
Pump cut-in/cut-out pressure (for each pump)
System Overpressure Alarm
Pump failure pressure
Pump Mode (Pump1, Pump2, Twin pump assist/standby)
Minimum Rainwater Level (dry run prevention)
Fault code display
Fault code erase
Input test diagnostic screen
Output test diagnostic screen
Manual Stop – with BMS activation
Restore Factory Default Settings
Documentation
Please, Contact us if you have any questions.
Order online from our steelpumps website: Buy Now