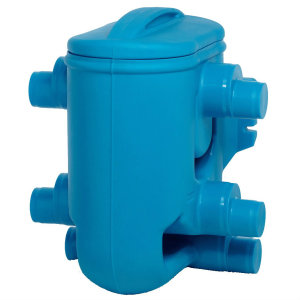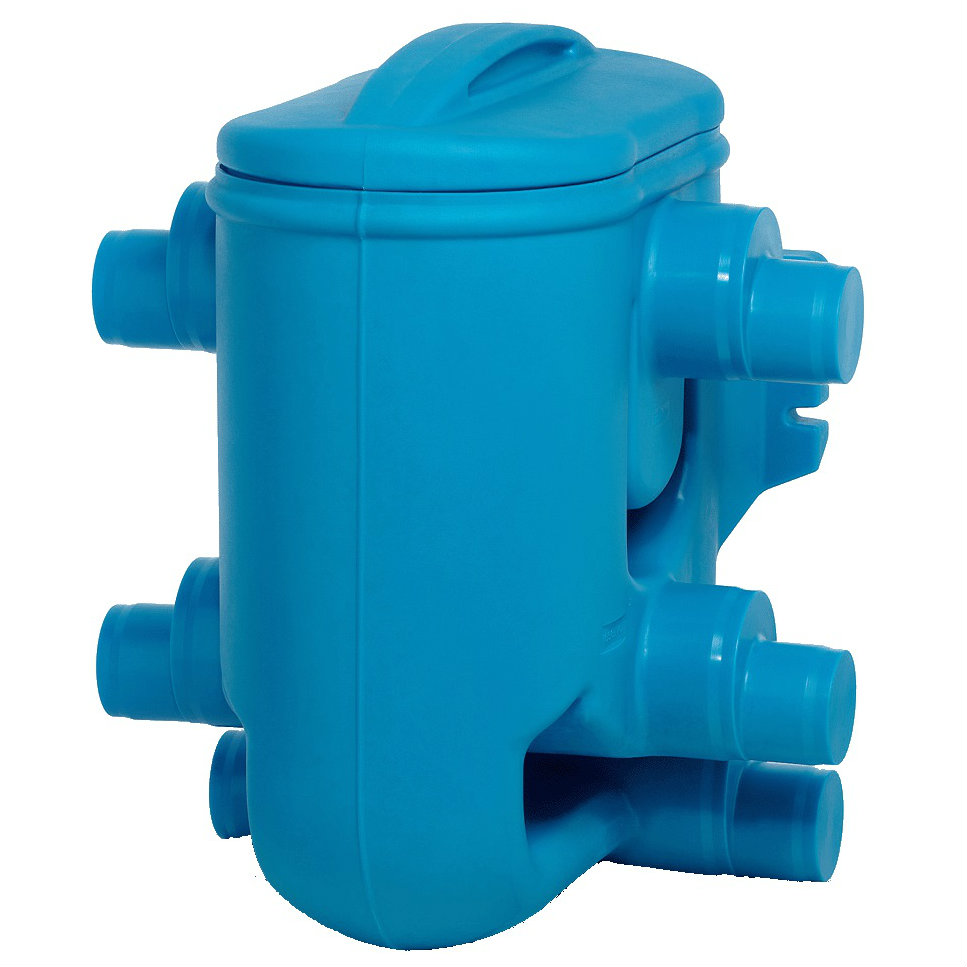 Description
Rainwater filter for large roof areas. The Twin Filter can be installed in chambers underground or directly on the wall kept frost free. Usually installed in standard 1000mm manholes. The filter could also be pre-installed in chambers prior to delivery to site.Due to its two step cleaning system, it has a high level of filtering efficiency, independent of flow rate. Due to the steep inclination of the filter cartridge the dirt is continuously cleaned away into the sewer. The cleaned water is collected in a tank and directed into the storage. The 3p two step filtration system is a tried and tested proven technology.
Connection capacity for roof areas up to 800m². A bypass-installation can be used to connect to a bigger area.
Rainwater inlet: 2 x DN 100/ DN 150 (110mm/160mm OD)
Tank inlet: 2 x DN 100/DN 150 (110mm/160mm OD)
Outlet into sewer: 2 x DN 100/ DN 150 (110mm/160mm OD)
The filter has to be cleaned depending on the contamination 1 – 2 times during the year.
How it Works
1. Incoming rainwater collects in the inlet weir sump, from which it must weir over onto the 2 filter units (overflow principle)2. Cleaning takes place over the two cascades. Larger dirt particles are washed directly to waste off the primary cascade.
3. Pre filtered water then flows over the secondary filter sieve (mesh size 0.65 mm). Due to the special mesh structure of the sieve, any dirt washes directly into the sewer.
4. The filter water collects in the central sump and passes via both clean water outlets to collection tanks.
5. The dirt that has been filtered out is washed to waste via the two outlets.
Technical Data
Twinfilter Product Code: 1000650
Twinfilter with Brackets: 1000650BR
Rainwater inlet: 2 x DN 100/ DN 150 (110mm/160mm OD)
Tank inlet: 2 x DN 100/ DN 150 (110mm/160mm OD)
Outlet into sewer: 2 x DN 100/ DN 150 (110mm/160mm OD)Height difference between inlet invert and inverts of
a. outlet into the storage: 350 mm
b. outlet into the sewer: 510 mm
Mesh size: 0.65 mm
Weight: 16 kg
Housing and cascade material: Polyethylene
Accessories
Filter cartridge: Stainless steel 1.4301
Optional Stainless Steel Wall Brackets: Product Number: 1000655
Dimensions